It's me again! Yes, I've got another cute and simple Cricut project for you all!
I call this one 'Sweet Tweets'. There is a Sweet Treat cup on the flower! How cute is that? I have so many ideas for these! You can find little cups like these at Right At Home! They are super simple to use and come with adhesive already on them and it holds really well! I took a few photos to show my process so hopefully it will help you all figure out how I did it.
Anyhow, check out my project for this week!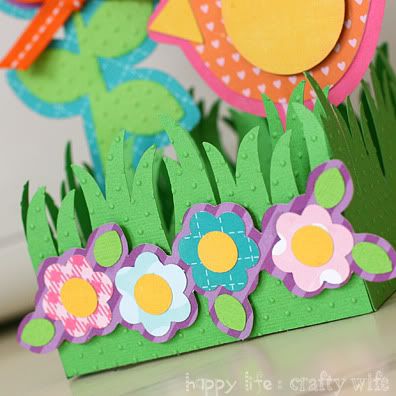 Ready to make one?
First, you will want to purchase the files from Lettering Delights. Go to the SVG section and click on the Lettering Delights banner to the right. You will need to purchase the Mulberry Lane and Mulberry Lane Too collections. For the grass I used the Stright From The Nest Cricut cartridge. If you do not have this cartridge or just prefer SVG files I do know that svgcuts.com has some grassy files that will work.
For this collection I used LITTLE GIRL paper by the always fabulous Echo Park. You can find this collection at Right At Home Scrapbooking! It's really a sweet collection of papers that would work well for so many different projects! My solid paper for the grass and flower stem are AC cardstock which cuts AMAZING with a Cricut!
Here are the cut sizes you will need:
TIP - To move the files around make sure you break them apart after resizing.
mulberry_lane_too-01 - (large flower) Cut at 6.000 high. The hole inside the larger flower will need to be resized to 1.730 wide. You will not be using the smaller flower so you can delete that.
mulberry_lane-04 - (bird) Cut at 4.000 high.
mulberry_lane_too-13 - (flowers) Cut at 5.000 wide.
mulberry_lane_too-08 - (butterfly) Cut at 3.000 wide
How To:
Cut a piece of styrofoam to 4x4 and about 1 1/2" high. Cut four strips of grass from the Straight From The Nest cartridge (or other SVG file) at 3 1/2" high. Cut four of them and trim them down to 4" wide. Use hot glue to glue them on the syrofoam. Use some of the pieces you trimmed off as fillers for the inside to help cover up the styofoam.
For the flower you will slide the purple flower petals over the sweet treats cup like so: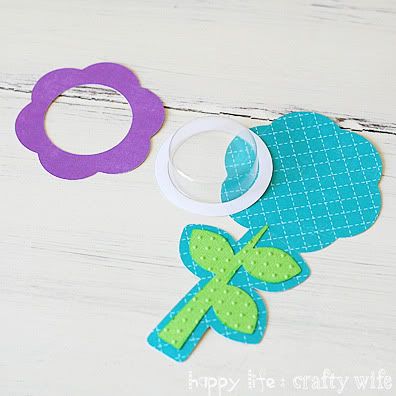 Add some glue to the edges of the petals and remove the backing from the sweet treat cup to expose the sticky tape. Then just stick it onto the blue flower base. I would have preferred more candy in it, but I ran out of yellow Skittles... one of my kids probably took some, lol!
For the green stem you will notice that it cuts with the background of the flower head as well. I just cut this off so it wouldn't show through the sweet treat cup. Add a little ribbon if you'd like!
For the flower and the bird you will want to attach a dowel rod, wire, etc. for support. Leave about 1" on the bottom to stick into the styrofoam.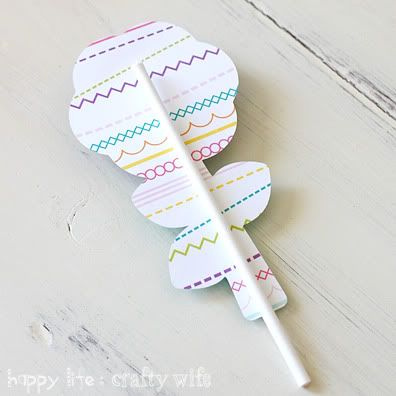 On the butterfly I used 20g jewelry wire so it would move and be 'springy'.
Design Ideas :
Add embossing. A little goes a long way! I used the swiss dots cuttlebug folder for my grass and stem. Ink/chalk.. add pop dots, etc. I looove 3d projects and make a lot of them! Pop dots are GREAT! I put some behind the flower strip and the bird's wing to make them stand out a bit.
Have fun with it! You can make it larger with 2-3 flowers! Or add a birdhouse or another bird! I wanted to keep it small and simple, but it you're up for it, take this project to a whole new level with your own twist! If you make any of my projects I would LOVE to see them. You can share them on my Facebook Page
Well, that is all from me today! Thanks so much for taking a look at my project and enjoy!
Happy Crafting!
--Tamara