Hey, everyone! It's Tamara! I'm back to share another super cute Cricut project with you all! It's a bit later than we had planned because I ended up pretty sick for a few days and didn't get a chance to finish it until recently.
This one is super cute and very easy to do! I had a lot of fun creating this to share with you all. This would be a great gift for a friend, teacher, child, etc. (or to look cute on your desk!)
I created a cute lollipop bouquet!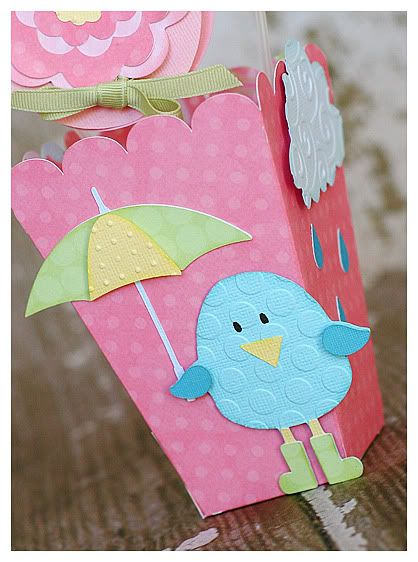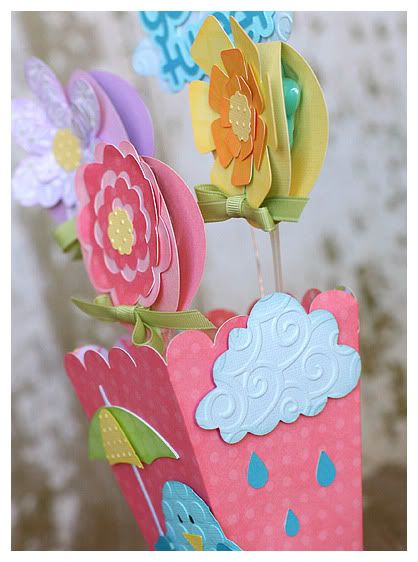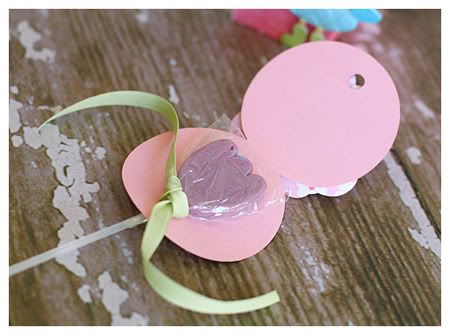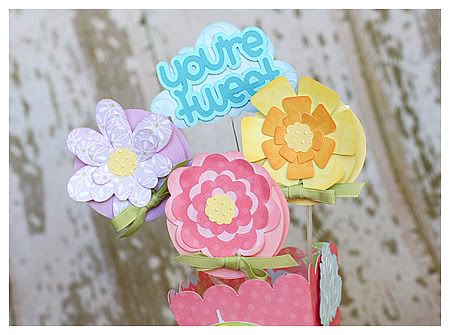 Adorable, right?! I was inspired by my cute new 3 Birds On Parade cartridge to create an 'April showers' theme. For this project I used the super cute paper collection 'April Showers' by 3 Bugs in a Rug! (Found at Right at Home Scrapbooking, of course!) Such a cute collection of papers! I love the spring colors!
If you would like to make one here is what I did -
Cartridges Used -
Tags, bags, boxes and more  
3 Birds On Parade
Simply Charmed
Accent Essentials
Create a Critter
INSTRUCTIONS :
With a Gypsy or in Design Studio weld two tags Sized at 3" each. You will want to weld them so the holes are at the ends for the lollipop stick and ribbon to go through. 
Bucket - TBBandM - Cut it as large as it will go. I layed it out in my Gypsy and rotated it a bit to get it even larger!
Flowers - Accent Essentials - #24 @ 3", 2 1/4" and 1 3/4". #32 @ 3", 2" and 1 1/4". And #46 @ 2 3/4", and 3/4". Glue them all together and fold up the petals so they look 3D.
Cloud - Simply Charmed - 3 3/4"
Text - 3 Birds On Parade - 2"
Grass - Create a Critter - 2 1/4 (trim to fit on the box)
Sun - Simply Charmed - 2"
Bird - 3 Birds On Parade - 4 1/2
Once you cut your box you will want to hot glue in a piece of styrofoam to hold up the lollipops. The 'You're tweet' is attached to a piece of jewelry wire and then stuck into the styrofoam.
Use some coordinating ribbon to tie your flower lollipop covers closed. It would be really cute to write or stamp something on the inside flap. That's it! Then give it to someone special to enjoy!
I really hope you all have enjoyed this project and that it inspires you!
--Tamara